Visit to fort Pampus in combination with RIB Rally or Sailing race yachts
The pampus challenge – sailing with race yachts or very fast RIB's
This water event program consists of 4 hours racing on sailing yachts, a tour around Pampus with a private guide and a spectacular activity with a RIB Rally. For larger events, it is possible to have the Pampus island exclusively to yourself.
This program will be held on the island of Pampus in combination with sailing yachts and RIB's. The island not only offers a culturist tour around the Fort for your guest, but also a unique setting for your company presentation, followed by drinks/lunch or dinner.
Your group can be split up into two sub-groups. They will alternate a tour around the Fort with some active sailing on race yachts and/ or a thrilling ride on our very fast RIB's (Rigid Inflatable Boats). Also a seaplane can be an option within this program.

After these activities, your guests can continue for an evening program on the island (ask us for the options regarding catering, music etc) or will be brought back to Muiden.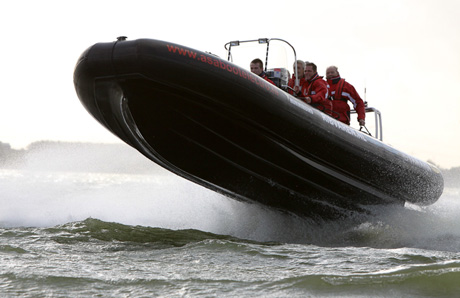 Have a look at our additional water event offerings. This is just to give you an idea of what we can do. Please just pick up the phone and talk to us - we are the water experts and will be able to craft events to suit your specific needs, whether for team building or entertaining at the highest level.
Related pages