German Frers 50ft race yachts
Morningstar or Navigator
In Muiden, these two similar yachts are ready to race against each other in a match race or within a larger fleet.
Many of our guests have never sailed before, but leave with a lasting impression!
The Morningstar, together with its sister ship 'Navigator', was delivered to and imported in the Netherlands in November 2005 from the U.S. The purpose of this import was to offer active sailing events and racing on the IJsselmeer and North Sea.
These boats have been designed by the Argentinian designer German Frers. He is also the designer of some very successful and famous boats (Luna Rossa & Flyer) that competed in the America's cup and Whitbread around the world race.
The Morningstar was one of the most high tech sailing yachts competing in the Southern Ocean Racing Conference in 1984. The skipper was the 4 time champion John Kolius.

Sailing yacht specifications
Type: German Frers custom build
Length: 15,20 m / 50ft
Width: 4,50 m
Depth: 2,50 m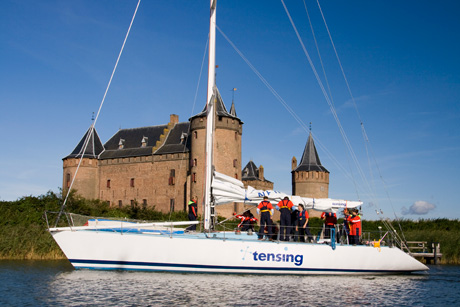 Other sailing yachts and boats