MaxFun 35 race yacht – Red Roo
Call us or email for a customised proposal.
The MaxFun 35 is an ultra-light modern racer and a super sports boat. With only 4 knots of breeze, she can reach 6 knots of boat speed. Sailing downwind, with a relatively large gennaker this boat is almost unstoppable.
The Max Fun 35 is a thrilling boat. She is relatively easy to handle, and high speeds can be achieved easily. She is designed to plane and can reach up to 22 knots in the right conditions. With a large cockpit and lightweight materials she is perfect for novice sailors, but also for experienced sailors seeking for exhilaration!
Skipper Rob and/or Barbara are both active regatta sailors. They like to race their boat duo handed and are always in for a challenge when a winning place is at stake. They have both sailed a season in the Caribbean as skipper and mate on board a charter yacht, so they know how to entertain and be great hosts to their guests.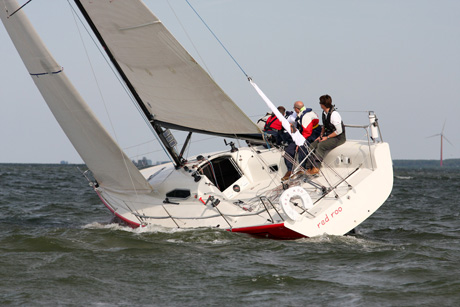 Sailing yacht specifications
Type: MaxFun 35
Length: 10,7 m
Width: 3,25
Depth: 2,2
Other sailing yachts and boats