IMX 38 race yachts – Mango, Excession, Outlaw
Call us or email for a customised proposal.
This is a great sailing yacht for modern racing specifically for short inshore racing. This Danish X-Yachts design is very functionally built. Like many racers if you trim and steer the boat incorrectly, you lose boat speed instantly and the advantage of sailing in a fast light boat is lost, so keep course and concentrate!
In Muiden, these yachts are ready to race against each other in a match race, as a threesome or wihtin a larger fleet. Many of our guests have never sailed before, but leave with a lasting impression!

The skippers Ruud, Willem and Kees are very keen sailors. They like to race this yacht to the extreme with their competent regatta crew, on their own or double handed, but also with their respective families. It is this combination that makes these gentlemen perfect skippers for your corporate charter events.
Sailing yacht specifications
Type: IMX 38 (3x)
Length: 11,50 m
Width: 3,75 m
Depth: 2,10 m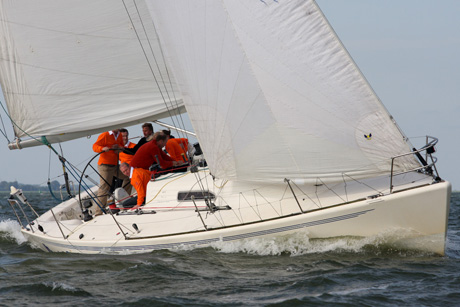 Other sailing yachts and boats